avant-match
LIVE
Thomaz Bellucci - Andy Murray
US Open men - 6 September 2015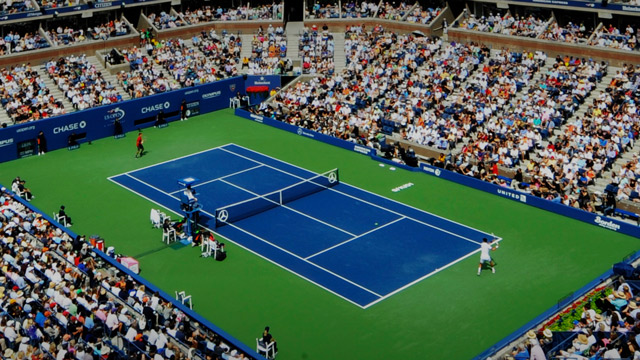 US Open – Follow the Tennis match between Thomaz Bellucci and Andy Murray live with Eurosport. The match starts at 00:00 on 6 September 2015. Our live coverage lets you follow all the key moments as they happen.
Head-to-head: see historical stats and visit our detailed profiles for Thomaz Bellucci vs Andy Murray. Get all the latest on Tennis: fixtures, results and tables.
Murray 6-3 6-2 7-5 Bellucci. Game, set and match. Murray wins! A brilliant, fluid performance from the third seed.
Murray 6-3 6-2 6-5 Bellucci. Break! Finally, the pressure tells on Bellucci. Murray times the moment perfectly, pouncing just the doubts swirled. By the end, Bellucci couldn't think straight, and his forehand went straight into the net. Murray is now one game away.
Murray 6-3 6-2 4-5 Bellucci. It almost feels like these Bellucci holds are getting easier and easier. The Brazillian smashes down a few more big serves, still pounding groundstrokes off both sides. He still leads.
Murray 6-3 6-2 4-4 Bellucci. Bellucci finds himself at Deuce, but the Scot throws in a nice slider before following it into the net for a slick serve and volley. A big serve takes him the rest of the way through another service game.
Murray 6-3 6-2 3-4 Bellucci. Bellucci still isn't going away. Instead, he hits back with a brilliant serving effort, cascading massive first serves down, before closing out the game with an incredible net rally between the two. If Murray wants a simple three setter, apparently he's really going to have to win it.
Murray 6-3 6-2 3-3 Bellucci. No problems for Murray at the half-way mark. On game point, the Scot went toe for toe against Bellucci's booming style, crushing backhands and forehands alike. When the net cord broke the rhythm of the rally, he quickly inserted a perfect dropshot. He's in an impressive and imaginative mood today.
Murray 6-3 6-2 2-3 Bellucci. Despite Murray's quick and easy holds, Bellucci is holding firm here. Again, it is clear Murray wants to finish this as urgently as possible, and he is taking returns earlier and stepping in with increasing frequency despite an already impressive performance. But Bellucci continues to hold his own.
Murray 6-3 6-2 1-2 Bellucci. Murry bounces back immediately with a sterling hold of his own. The third seed is clearly in a rush to finish this as soon as he can. He doesn't want to be out there until eternity. Bellucci responds by shrugging and holding serve once more to keep ahead.
Murray 6-3 6-2 0-1 Bellucci. Bellucci breaks the bitter rut, saving a break point with aplomb before holding with a glorious pair of volleys. He puts his name up on the board immediately in the third set.
Murray 6-3 6-2 Bellucci. Set! Murray serves it out quickly, efficiently and brilliantly. So far, the Scot is looking incredibly solid, dominating play both with his aggression and with his intelligence. One set to go.
Murray 6-3 5-2 Bellucci. Another day, another dropshot from Murray. Not all are great – some are too short, some too obvious and some Bellucci just gets up to really well. But regardless, the overriding theme is that most of Murray's dropshots have still been wildly successful. A rare actually great one brings the Scot to another break point, and Bellucci responds on the following point with a wild forehand.
Murray 6-3 4-2 Bellucci. No problems for Murray on his serve. The Brazilian finds some joy on his second serve, so the Scot cranks up his first delivery to keep the challenger at bay.
Murray 6-3 3-2 Bellucci. A solid hold from Bellucci also. The Brazilian challenger finds some fizzing lefty serves and backs them up well with his forehand. He's still fighting and he's still in touch, even if he is down a break.
Murray 6-3 3-1 Bellucci. Murray quickly and calmly consolidates his break with some brilliant businesslike serving. Despite the Brazilian's high level, the Scot has really distanced himself from his moment and the gulf in class is so clear.
Murray 6-3 2-0 Bellucci. A simple hold to love for Murray, as he continues to show such a variety of spins and slices. Bellucci can't deal with it, and he sprays a backhand straight into the net.
Murray 6-3 1-0 Bellucci. Break! After playing so well and losing so thoroughly, Bellucci already looks well out of ideas. A double fault surrounded by a few errors and some poor decision making leave Bellucci down a set and a break.
Murray 6-3 Bellucci. Set! An incredibly sharp and ready Murray takes the first set of a brilliant contest. The main difference between the pair was simply the gulf in quality, as Murray set about exposing every single weakness present in Murray's game.
Murray 5-3 Bellucci. Break! Murray makes the breakthrough. A touch of luck with a netcord, a touch of class with a screaming angled passing shot on break point. Overall, there's only so long a player can hit the cover off the ball and get away with it. Bellucci just found this out..
Murray 4-3 Bellucci. Bellucci continues to demolish the ball whilst Murray mixes in aggression with dropshots and slices. Both men are still experimenting in these opening games, and it's Murray who holds after one such experiment from Bellucci ends with a substandard dropshot brushed aside by the Scot.
Murray 3-3 Bellucci. An epic game with endless deuces and brilliant play from both men ends with an anti-climax of a Murray netted error. But after multiple Murray break points, it was quite a brilliant hold from the Brazilian.
Murray 3-2 Bellucci. Easy does it for Mr Murray, the Scot pulling off a brilliant stretch volley to salvage a sub-standard drop shot. Aside from that, it's the serve that drives Murray back ahead.
Murray 2-2 Bellucci. Break! After a brilliant start, Bellucci trips over his own feet with two double faults and then an inexplicable series of slices. Murray quickly takes back the break.
Murray 1-2 Bellucci. Break! More utterly relentless hitting from the Brazilian, who is really taking it to Murray early. After some brilliant Bellucci backhands, Murray drops a forehand into the net and gives up the first break.
Murray 1-1 Bellucci. Not a bad start for Bellucci, either. The Brazilian pounds a series of backhands before unleashing down the line. Then on the next point he does the same to a short ball on his favoured forehand wing. Shortly after, he takes his first hold.
Murray 1-0 Bellucci. Bellucci takes the first two points to move up 0-30, at which point Murray arrives on court. Four points later, Murray captures the game after some sterling serving and he eases into the match.