avant-match
LIVE
Andy Murray - James Duckworth
US Open men - 27 August 2018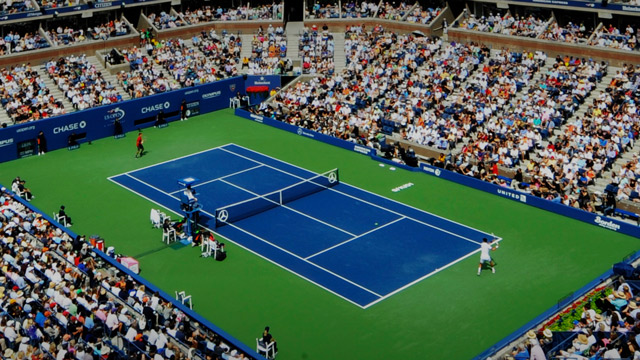 US Open – Follow the Tennis match between Andy Murray and James Duckworth live with Eurosport. The match starts at 16:00 on 27 August 2018. Our live coverage lets you follow all the key moments as they happen.
Head-to-head: see historical stats and visit our detailed profiles for Andy Murray vs James Duckworth. Get all the latest on Tennis: fixtures, results and tables.
"At times it was tricky, especially early on in the match," says Murray. "I was happy I managed to get through that and play some good stuff at times."
Good match, that, and a good run-out for the returning Murray.
MURRAY 6-7 6-3 7-5 6-3 DUCKWORTH: Murray wobbles a bit at 30-15, serving a double fault, but some smart running to the net sets up match point, and when Duckworth returns into the net, it's time to shake hands.
MURRAY 6-7 6-3 7-5 5-3 DUCKWORTH: A hold to love for Duckworth, but Murray isn't turning the screws as he knows he will have the chance to serve it out.
MURRAY 6-7 6-3 7-5 5-2 DUCKWORTH: That's good stuff from Murray, holding his serve and staying very focused.
MURRAY 6-7 6-3 7-5 4-2 DUCKWORTH: A third break point is what Andy Murray needs as James Duckworth serves up a double fault once more - unfortunate, because some of his tennis has been great and the rallies here are largely terrific.
MURRAY 6-7 6-3 7-5 3-2 DUCKWORTH: A service game full of errors from Murray but quick thinking from Duckworth. A break back, and we're on serve.
MURRAY 6-7 6-3 7-5 3-1 DUCKWORTH: Clever play from Andy Murray, grabbing the break and celebrating the game with another fist-pump.
MURRAY 6-7 6-3 7-5 2-1 DUCKWORTH: A really swift hold to love for Murray, grabbing this match by the scruff of the neck in the fourth set.
MURRAY 6-7 6-3 7-5 1-1 DUCKWORTH: Murray breaks right back, though, with Duckworth's service game simply sagging.
MURRAY 6-7 6-3 7-5 0-1 DUCKWORTH: Murray chucks his racquet to the ground after Duckworth breaks his serve at the start of the fourth.
Apparently poor Duckworth has been given a warning for unsportsmanlike behaviour at that change of ends - either swearing to himself or chucking his racquet.
MURRAY 6-7 6-3 7-5 DUCKWORTH: Tremendous rally on set point and Andy Murray roars again as he goes into the lead.
MURRAY 6-7 6-3 6-5 DUCKWORTH: "Come on!" roars Murray as he holds this vital service game. He then takes to his seat and notes to the umpire that his ice towel is melting.
MURRAY 6-7 6-3 5-5 DUCKWORTH: The crowd - quiet so far - begin to rouse some applause for these two, both recovering from injury and working hard in the heat.
MURRAY 6-7 6-3 5-4 DUCKWORTH: Duckworth despairs as he sends a forehand volley into the net - that was a great chance on the Murray serve.
MURRAY 6-7 6-3 4-4 DUCKWORTH: Murray's testing out the range of his returns, but Duckworth is equal to it.
MURRAY 6-7 6-3 4-3 DUCKWORTH: A hold to love for Murray who's looking very happy on serve.
MURRAY 6-7 6-4 3-3 DUCKWORTH: A beautiful passing shot from Murray at the start of the game, but then a poor splay into the net and it's no wonder he's chuntering to himself crossly.
MURRAY 6-7 6-3 3-2 DUCKWORTH: Murray's rocketing these serves down, albeit getting called on a double fault as he looks to finish the game.
MURRAY 6-7 6-3 2-2 DUCKWORTH: Duckworth is puffing out his cheeks quite a bit in this humid weather.
MURRAY 6-7 6-3 2-1 DUCKWORTH: All with serve so far in the third.
MURRAY 6-7 6-3 1-1 DUCKWORTH: A hold for Duckworth, who's giving Murray a test on this big stage.
MURRAY 6-7 6-3 1-0 DUCKWORTH: After a lengthy break while Duckworth goes off court for a bit, it's a hold to love for Murray.
MURRAY 6-7 6-3 DUCKWORTH: There we go. Really good work from Murray, snaffling the Duckworth serve, putting the pressure on, and taking the second set.
MURRAY 6-7 5-3 DUCKWORTH: Good stuff from Murray, steady progress towards levelling up.
MURRAY 6-7 4-2 DUCKWORTH: Duckworth is certainly going toe-to-toe with Murray, reiterating his point that he thinks this is his best chance to beat a former World No.1.
MURRAY 6-7 3-2 DUCKWORTH: Murray threatens to break but Duckworth utlises the serve and volley to great effect.
MURRAY 6-7 3-1 DUCKWORTH: A consolidation of that break of serve and that's the mindset we're used to seeing. Gritted teeth. Vintage Murray.
MURRAY 6-7 2-1 DUCKWORTH: Yep, and there's the Murray fist-clench as he gets the first break of serve in this second set.
MURRAY 6-7 1-1 DUCKWORTH: Andy Murray often looks like he's limping, but that lope is more pronounced now. That could mean anything, though.
MURRAY 6-7 1-0 DUCKWORTH: A hold of serve to get the second set under way.
Andy Murray is getting really cross with people just wandering down the stairs with their refreshments as they try and find a seat on a half-full Louis Armstrong court.
MURRAY 6-7 DUCKWORTH: Murray comes back from 3-0 down to push Duckworth, but the Australian takes the tie-break 7-5.
MURRAY 6-6 DUCKWORTH: The Australian saves two set points, and we're into a tie-break.
MURRAY 6-5 DUCKWORTH: It's so nice to see that lovely Murray forehand back in action on the biggest stage.
MURRAY 5-5 DUCKWORTH: Sound returning from Murray but not yet damaging the Duckworth hold.
MURRAY 5-4 DUCKWORTH: A beautiful flowing hold to love for Andy Murray.
MURRAY 4-4 DUCKWORTH: Still with serve, and Murray's usually excellent return isn't making any inroads yet.
MURRAY 4-3 DUCKWORTH: All with serve so far. The heat map shows that Murray is moving up to the net a little bit more than he did back in 2016.
MURRAY 3-3 DUCKWORTH: Murray starts to make inroads into the Duckworth serve, grabbing himsef a break point but unable to convert.
MURRAY 3-2 DUCKWORTH: More ice towel and ice water for Andy Murray, who'll be hoping for a gentle-ish introduction to Grand Slam play.
MURRAY 2-2 DUCKWORTH: Duckworth is bouncing around on his red-shod toes between points, staying loose.
MURRAY 2-1 DUCKWORTH: "Can I get an ice towel, please?" asks the former World No.1 as he holds serve and takes a seat.
MURRAY 1-1 DUCKWORTH: A hold for Duckworth in front of a quiet crowd, who still can't find their seats properly. The umpire tries to hurry them up.
MURRAY 1-0 DUCKWORTH: A good rally to start the match, with the Australian taking the first point, but a straightforward hold for Murray.
Duckworth fancies his chances against Murray.
No better time to play Murray, says hopeful Duckworth
Later on today, Sir Andrew Barron Murray takes on Australia's James Duckworth on Louis Armstrong Stadium.