avant-match
LIVE
Novak Djokovic - João Sousa
US Open men - 3 September 2018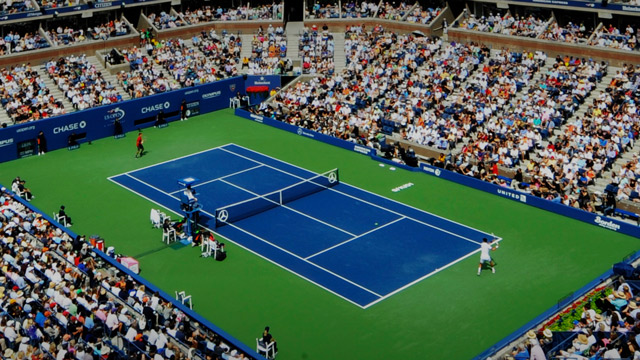 US Open – Follow the Tennis match between Novak Djokovic and João Sousa live with Eurosport. The match starts at 19:00 on 3 September 2018. Our live coverage lets you follow all the key moments as they happen.
Head-to-head: see historical stats and visit our detailed profiles for Novak Djokovic vs João Sousa. Get all the latest on Tennis: fixtures, results and tables.
DJOKOVIC 6-3 6-4 6-3 SOUSA: Djokovic just swept Sousa aside in the last few games. It's another spot in the US Open quarter-final for him.
DJOKOVIC 6-3 6-4 5-3 SOUSA: Tremendous speed on the Djokovic shot-making as he breaks the Sousa serve once more - this time to love as the Portuguese struggles on his second serve - and the end looks like it's nigh.
DJOKOVIC 6-3 6-4 4-3 SOUSA: It's Sousa's turn to complain now - he wanted to challenge but the umpire didn't spot it. Turns out the ball was good anyway, looking at the footage.
DJOKOVIC 6-3 6-4 3-3 SOUSA: Sousa finds himself happily isolated at the net, able to volley home for the hold of serve.
DJOKOVIC 6-3 6-4 2-2 SOUSA: Under way again, Sousa holds. Djokovic looks fed up.
And now he's back. That was weird.
Djokovic is receiving "an off-court medical evaluation".
Djokovic has been attended to by a couple of trainers, and has headed off court presumably for more treatment.
DJOKOVIC 6-3 6-4 2-1 SOUSA: Apparently Djokovic was complaining that he thought Sousa was about to challenge. The footage does not support that - the Portuguese was moving the entire time.
DJOKOVIC 6-3 6-4 1-1 SOUSA: Djokovic is walking towards his chair and is complaining to umpire Keothavong about something. All I can hear is "You have to interfere!"
Umpire James Keothavong is on the phone - is he calling for the trainer at the next changeover?
DJOKOVIC 6-3 6-4 1-0 SOUSA: Djokovic looks up at his box and seems to be gesturing towards his chest.
DJOKOVIC 6-3 6-4 SOUSA: Sousa still has the lead when it comes to forehand winners, but it's the number of games that count - plus of course the unforced errors. The Portuguese lashes a forehand long to give Djokovic set point - which he takes.
DJOKOVIC 6-3 5-4 SOUSA: Djokovic gets a warning for taking too long on his serve, and looks thoroughly angry. He doubles down on his focus to hold.
DJOKOVIC 6-3 4-4 SOUSA: And Sousa holds as Djokovic starts to look a little tired.
DJOKOVIC 6-3 4-3 SOUSA: Sousa challenges a call at 40-30, incorrectly, leaving Djokovic with the psychological advantage to take the game.
DJOKOVIC 6-3 3-3 SOUSA: Almost an hour gone, and Sousa holds his serve.
DJOKOVIC 6-3 3-2 SOUSA: Hold for Djokovic before the sit-down.
DJOKOVIC 6-3 2-2 SOUSA: Sousa gets so much air on a volley at the net that it confuses even him.
Djokovic is being sarcastic, applauding his racquet at the crowd.
DJOKOVIC 6-3 1-2 SOUSA: Sousa breaks the Djokovic serve! The Serbian is disgruntled throughout the game, and glares at his box, as if it's their fault.
DJOKOVIC 6-3 1-1 SOUSA: Sousa realises that serving to Djokovic's body is not going to bring too much success, and starts to mix up his length a little.
DJOKOVIC 6-3 1-0 SOUSA: Easy hold for Djokovic, finishing it off with an ace.
DJOKOVIC 6-3 SOUSA: Sousa's forehand lets him down here - he hits the net cord and it bounces out on the other side, handing Djokovic triple set point. And then he serves a double fault.
DJOKOVIC 5-3 SOUSA: Sousa looks annoyed with himself after getting a couple of points back on the Djokovic serve and then letting the game slip.
DJOKOVIC 4-3 SOUSA: Sousa has a good forehand and he uses that to good effect to hold.
DJOKOVIC 4-2 SOUSA: Sousa makes a wild return and Djokovic holds to 30.
DJOKOVIC 3-2 SOUSA: Sousa is going into the toolbox to hold his serve now, trying plenty of tricks and switching up his tactics.
DJOKOVIC 3-1 SOUSA: The sixth seed continues to move on with ease on his serve.
DJOKOVIC 2-1 SOUSA: What strong hitting from Djokovic, utterly tenacious pushing the Sousa serve.
DJOKOVIC 1-1 SOUSA: Djokovic holds his own serve to level up.
DJOKOVIC 0-1 SOUSA: Sousa has never taken a set in his four previous meetings with Djokovic, so a hold to love is a fun start for him.
Not before 7pm UK time, Novak Djokovic takes on the unseeded Joao Sousa.