avant-match
LIVE
Novak Djokovic - Tennys Sandgren
US Open men - 31 August 2018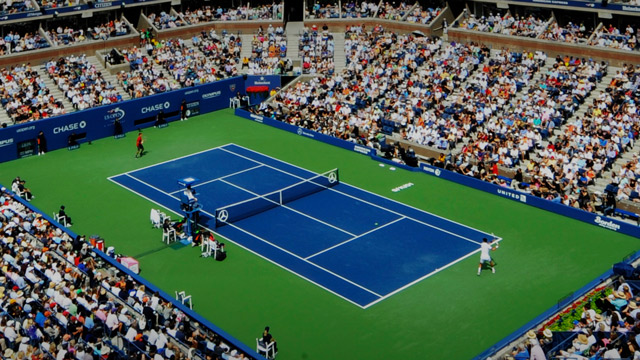 US Open – Follow the Tennis match between Novak Djokovic and Tennys Sandgren live with Eurosport. The match starts at 00:00 on 31 August 2018. Our live coverage lets you follow all the key moments as they happen.
Head-to-head: see historical stats and visit our detailed profiles for Novak Djokovic vs Tennys Sandgren. Get all the latest on Tennis: fixtures, results and tables.
DJOKOVIC IS THROUGH! 6-1, 6-3, 6-7 (2-7), 6-2. Well, he made slightly harder work of that than he might have, but Djokovic was far too good for Sandgren, who didn't have the game to trouble the Serbian.
*DJOKOVIC 5-2 SANDGREN (6-1, 6-3, 6-7 (2-7)): And that should be that. Sandgren is running on vapours and so he's trying to shorten the points. This time, he is too rash.
*DJOKOVIC 4-2 SANDGREN (6-1, 6-3, 6-7 (2-7)): Djokovic is frustrated. Even when things go right, he is feeling like they are going wrong. Sandgren is trying everything, but it feels a bit desperate.
DJOKOVIC 3-2 SANDGREN* (6-1, 6-3, 6-7 (2-7)): Huge hold from Sandgren to keep him in the match... just. Djokovic was up 0-30, but then Sandgren paints the line four times in a row.
*DJOKOVIC 3-1 SANDGREN (6-1, 6-3, 6-7 (2-7)): The Serbian has regrouped here and looks to be in control of things once again. Djokovic holds to love. Pressure back on Sandgren.
*SANDGREN 1-2 DJKOVIC (6-1, 6-3. 6-7 (2-7): Sandgren just seems to have hit the wall here. The American is running on vapours. You get the feeling this match could be winding down now...
DJOKOVIC 0-1 SANDGREN* (6-1, 6-3, 6-7 (2-7): Hugely important service game for Sandgren. He looked to be in a little bit of trouble at 15-30, but finds some good serving.
SANDGREN STEALS THE THIRD SET! 7-6 (7-2). What a tie break from the big American! Djokovic is kicking himself, though. He should have closed out that third set and the match.
*DJOKOVIC 6-6 SANDGREN (6-1, 6-3): What a hold from Sandgren to force the tie breaker at the end of the third serve! The American's best play in that game was a volley at the net that stopped Djokovic's passing shot dead.
*DJOKOVIC 6-5 SANDGREN (6-1, 6-3): The pressure is back on Sandgren straight away. A hold to love for Djokovic, who wasn't troubled at all in that game by the American.
DJOKOVIC 5-5 SANDGREN* (6-1, 6-3): Well done, Sandgren! He faced a match point there. Djokovic had a look at a second serve on it, but Sandgren managed to grind out the hold.
*DJOKOVIC 5-4 SANDGREN (6-1, 6-3): Sandgren will serve to stay in this third set and in this match. Sandgren goes on the attack, but Djokovic has too much variety for the American.
DJOKOVIC 4-4 SANDGREN* (6-1, 6-3): Impressive play from Sandgren. He could have crumbled there, but he actually played his best game of the match. He can chase down shots.
*DJOKOVIC 4-3 SANDGREN (6-1, 6-3): Djokovic's backhand down the line isn't really working as well as it usually does, but he's doing enough to edge ahead in this third set.
DJOKOVIC 3-3 SANDGREN* (6-1, 6-3): Djokovic breaks back immediately! There was a mishit from the Serbian right on game point and that gave him control over the point.
*DJOKOVIC 2-3 SANDGREN (6-1, 6-3): A break for Sandgren! That was gift wrapped from Djokovic, who threw that away with two unforced errors and a double fault.
DJOKOVIC 2-2 SANDGREN* (6-1, 6-3): That was an opportunity for Djokovic to really turn the screw, but he can't take two break points and then two loose backhands hand Sandgren the hold.
*DJOKOVIC 2-1 SANDGREN (6-1, 6-3). Clear thinking from Djokovic, who sends a kick serve down the middle to catch Sandgren by surprise. Can the Serbian now get the break?
MONFILS RETIRES! What a shame. Monfils had the break in the second set against Nishikori, but the Frenchman has been forced to retire with an injury of some kind. Nishikori gets the default.
DJOKOVIC 1-1 SANDGREN* (6-1, 6-3). Sandgren needed that hold at the start of the third set. The highlight of that game was a weighty crosscourt backhand winner. What a shot.
*DJOKOVIC 1-0 SANDGREN (6-1, 6-3): Very solid start to the third set from Djokovic, who holds to love. The Serbian has his landing gear up now. Sandgren's returning game just isn't good enough.
SECOND SET TO DJOKOVIC! 6-3. The Serbian is racing through this match now! Sandgren put up some good resistance in an attempt to delay the inevitable at the end of that second set, but loses another break point with a forehand into the net.
GAME, SET, MATCH CILIC! The big Croatian is through to the third round and boy, was that impressive! Hurkacz was out of his depth, with Croatian dispatching of him 6-2, 6-0, 6-0.
*DJOKOVIC 5-3 SANDGREN (6-1): Great cat and mouse play from the two guys on game point! The drop shot from Sandgren was great, but Djokovic got there and replied in kind.
DJOKOVIC 4-3 SANDGREN* (6-1): Very impressive from Djokovic. The pressure from the Serbian was too much for Sandgren. The American is clinging on here in this match.
*DJOKOVIC 3-3 SANDGREN (6-1): Nice kick serve from Djokovic at advantage in the deuce game. Sandgren just found himself too far behind the baseline to make the return.
DJOKOVIC 2-3 SANDGREN* (6-1): Djokovic had 30-30 on the Sandgren serve, but the American finds a big serve and then Djokovic lands a backhand in the net.
*DJOKOVIC 2-2 SANDGREN (6-1): There was a chance for Sandgren at 40-30, but Djokovic takes some pace off his first serve and paints the line down the middle. Ace winner.
DJOKOVIC 1-2 SANDGREN* (6-1): Sandgren has upped his first serve and is finding his targets. This is much better from the American. For the first time since the first game, he's in this.
SECOND SET TO CILIC! It's a procession for the Croatian over on Grandstand. He has just closed out the second set 6-0. It's hard to imagine a way back for Hurkacz from here.
*DJOKOVIC 1-1 SANDGREN (6-1): Djokovic is on the board for the second set. Sandgren lands one right in the middle of the net on game point. That's disappointing.
DJOKOVIC 0-1 SANDGREN* (6-1): The American found himself in a spot of trouble once again there, with Djokovic bringing up deuce. But Sandgren is forcing the play and holds.
Nishikori takes the first set! Over on the newly rebuilt Louis Armstrong Stadium court, Nishikori has stormed to the first set against Monfils, taking it 6-2. Good start for the former US Open finalist.
FIRST SET TO DJOKOVIC! 6-1. The first game lasted seven minutes, but the rest was over in a flash. Sandgren is making too many errors and Djokovic has too much weight on his groundstrokes. It looks like a mismatch.
DJOKOVIC 5-1 SANDGREN*: This first set is as good as over. The errors are flying off the racquet of Sandgren. Double faults, backhands beyond the baseline. Yikes.
In other news... Nishikori has the early break of serve in the first set against Monfils. Cilic has also taken the first set 6-2 against Hurkacz and has an early break in the second.
*DJOKOVIC 4-1 SANDGREN: All of a sudden Djokovic has accelerated to within two games of this first set. The Serbian is finding great depth on his groundstrokes from the baseline.
DJOKOVIC 3-1 SANDGREN*: The first break of the first set and the match goes the way of Djokovic. An unforced error and a double fault put Sandgren in trouble and Djokovic had too much for him on break point.
*DJOKOVIC 2-1 SANDGREN: Some early signs of rustiness from Djokovic, with Sandgren handed a way into the game at 30-30. But the Serbian finds some big hitting at the right time.
DJOKOVIC 1-1 SANDGREN*: The American had to work at that first service game, but some good serving gets him through after being taken to deuce by Djokovic.
*DJOKOVIC 1-0 SANDGREN: A seven minute game to kick off the match. Sandgren has a break point at 30-40, Djokovic thumps a big serve down the T to save it and then eventually sees out the game.
Here we go... Djokovic to serve first!
Out on court! The two players have just walked out on to Arthur Ashe Stadium. The lights are down, the spotlights are on... this is when you want to be playing at the US Open!
Djokovic had a little bit of trouble in his last match. The Serbian struggled with the heat in New York. He even had the cardiologist out! It's quite a bit cooler this evening, though.
Marin Cilic is also out on the Grandstand court up against Hubert Hurkacz. That should be an interesting one for the former US Open champion. We'll be keeping an eye on that.
First up on Arthur Ashe Stadium it's Djokovic against Sandgren, followed by Maria Sharapova and Sorana Cirstea. Two excellent, big name matches in store for us this evening.
Good evening (good morning?) and welcome to Eurosport's LIVE coverage of Day Four of the US Open. We'll be focussing on the match between Novak Djokovic and Tennys Sandgren, but will be keeping across all other matches as well.