avant-match
LIVE
Kiki Bertens - Venus Williams
Wimbledon women - 6 July 2018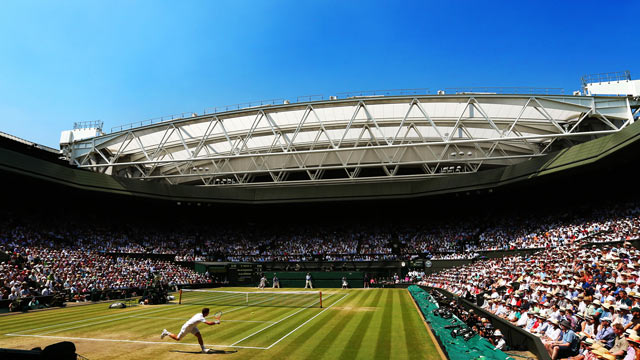 Wimbledon – Follow the Tennis match between Kiki Bertens and Venus Williams live with Eurosport. The match starts at 13:00 on 6 July 2018. Our live coverage lets you follow all the key moments as they happen.
Head-to-head: see historical stats and visit our detailed profiles for Kiki Bertens vs Venus Williams. Get all the latest on Tennis: fixtures, results and tables.
GAME, SET AND MATCH! - V.WILLIAMS 2-6 7-6 6-8 BERTENS. Kiki has done it and another top 10 seed tumbles out! The Dutch star piled on the pressure at deuce and finally made it count on her third match point when Venus cracked a tired backhand into the net. It's a first victory over a top 10 opponent for Bertens who deservedly goes through after an epic battle lasting two hours and 39 minutes on Court One.
V.WILLIAMS 2-6 7-6 6-7 BERTENS. Venus isn't making much impact on the return game now. Kiki surges through once more to keep asking the question of her 38-year-old opponent. Will fatigue play a part?
V.WILLIAMS 2-6 7-6 6-6 BERTENS. It's looking like it isn't going to be Kiki's day. She's had so many chances, but not been able to take them. At 0-30 it edges out of reach once more. She then loses her final challenge remaining before VW pulls reaches parity again.
V.WILLIAMS 2-6 7-6 5-6 BERTENS. VW will have to play catch up again. Kiki does enough to apply the scoreboard pressure once more. Any slip now will be fatal for the five-time champ.
V.WILLIAMS 2-6 7-6 5-5 BERTENS. Venus allows Bertens a look-in from 40-0 down, but just about does enough to shut the door before the Dutch hopeful can turn the screw from deuce.
V.WILLIAMS 2-6 7-6 4-5 BERTENS. Kiki holds firm with a hold to 15. Venus must now hold to stay in the tournament.
V.WILLIAMS 2-6 7-6 4-4 BERTENS. It's another massive nearly moment for Kiki. She has two break points, but can't make the most of either. She doesn't connect well with the return on the second and it allows Venus to level it up from the sanctuary of deuce.
V.WILLIAMS 2-6 7-6 3-4 BERTENS. After that dip late in the second set, Bertens has got her mojo back. She drops one point on her way to another solid hold. This match is poised on a knife-edge now.
V.WILLIAMS 2-6 7-6 3-3 BERTENS. Venus marauds to a love hold, finishing it off with a lovely wide ace.
V.WILLIAMS 2-6 7-6 2-3 BERTENS. This rollercoaster encounter continues to swing in momentum. Bertens makes it three games in a row with a hold to 15 to edge in front on the board.
BREAK! - V.WILLIAMS 2-6 7-6 2-2 BERTENS. Kiki is not done yet! She presses Venus to deuce and then earns the break back with a lovely backhand winner.
V.WILLIAMS 2-6 7-6 2-1 BERTENS. Kiki gets on the board to stop the rot. She's still in this but needs to stops dropping deep and find her more aggressive, attacking game once more.
V.WILLIAMS 2-6 7-6 2-0 BERTENS. VW consolidates to 15 and now looks in charge after being second best for much of the match.
BREAK! - V.WILLIAMS 2-6 7-6 1-0 BERTENS. This is looking bleak for Bertens. She coughs up too many unforced errors and Venus comes into the net once again with real authority to get the decider off to a flyer.
SET! - V.WILLIAMS 2-6 7-6 BERTENS. All square! Venus crunches through the gears to lead 6-2 in the tie break. Kiki saves three set points, but leaves herself too much to do as the five-time champion takes it 7-5.
TB LATEST: Venus leads 5-1 at the change of ends. It looks like this is heading to a decider.
V.WILLIAMS 2-6 6-6 BERTENS. Where was that a few moments ago? Bertens finds her rhythm to claim a love hold and force the tie break.
V.WILLIAMS 2-6 6-5 BERTENS. Venus has the edge. The American closes it out with a crosscourt volley after Bertens had clawed two points back from 40-0 down.
BREAK! - V.WILLIAMS 2-6 5-5 BERTENS. It's a shocker for Bertens. She can't wriggle clear at 30-15 and Venus turns it around, breaking when her opponent flashes an attempt way out of court.
BREAK! - V.WILLIAMS 2-6 4-5 BERTENS. Wowser! A third double fault at the worst possible moment gives Bertens a major lift with a break to love. The Dutch 20th seed will now serve for the match.
BREAK! - V.WILLIAMS 2-6 4-4 BERTENS. And there it is! Last year's finalist doesn't want to go home just yet. Her return-game comes to town at just the right moment and she unlocks the Bertens serve at the second opportunity to pull level.
V.WILLIAMS 2-6 3-4 BERTENS. Venus remains in contention. The 38-year-old has all the know-how and will be keen to make sure she doesn't give her opponent any presents. The Dutch hopeful could yet get tight and Venus wants to be ready to pounce.
V.WILLIAMS 2-6 2-4 BERTENS. The nerves could yet come, but so far Bertens is staying razor-sharp with her focus. She keeps her advantage with a game to 15.
V.WILLIAMS 2-6 2-3 BERTENS. Venus won't give up without a fight. She powers to a hold to love to stay in touch.
V.WILLIAMS 2-6 1-3 BERTENS. Kiki backs up the break with a hold to 15. This has been a superb showing from the No.20 seed from Holland. Now, can she see it out and take a famous scalp?
BREAK! - V.WILLIAMS 2-6 1-2 BERTENS. Bertens checks the Venus revival with some solid serving to hold firm before breaking to 30. The No.9 seed is in big trouble right now.
V.WILLIAMS 2-6 1-0 BERTENS. From Venus' point of view, the match starts here. The five-time champion surges to a love hold to kick off Set in positive fashion.
SET! - V.WILLIAMS 2-6 BERTENS. Kiki lashes down an ace to clinch the set with a hold to love. The Dutch woman has been by the far better player, while everyone around Court One is expecting Venus to regroup. We will see.
V.WILLIAMS 2-5 BERTENS. Kiki presses for the breadstick but can't make a number of set points count. Venus eventually prevails from deuce number 1082 (*an exaggeration, obviously) after a mammoth game.
Meanwhile, Venus' sister is gearing up for her match. She's scheduled next on Centre Court.
V.WILLIAMS 1-5 BERTENS. Kiki is on fire. Her game-plan is working a treat while Venus looks off the pace. The No.20 seed holds to love and is now on the verge of taking the opening set.
BREAK! - V.WILLIAMS 1-4 BERTENS. Super stuff from the Dutch star. She defends hard at the baseline and lures a long error from Williams to earn another break from deuce. It's not been a match for the server so far.
BREAK! - V.WILLIAMS 1-3 BERTENS. Kiki has her chances at 30-15 and 40-30, but Venus seems to have finally woken up. The American pressures her opponent at deuce and grabs a break back.
BREAK! - V.WILLIAMS 0-3 BERTENS. That's just woeful from Venus. She lets a 40-0 lead slip and is then made to battle hard to save a break point. She does that, but Bertens has the bit between her teeth and makes it count on a second opportunity to snare a double break.
V.WILLIAMS 0-2 BERTENS. Kiki consolidates to 30 as Venus misses off a make-able forehand.
BREAK! - V.WILLIAMS 0-1 BERTENS. That's a rather sluggish start from Williams. The serve surprisingly lacks much heat and Bertens takes full advantage with a break to 15.
HEAD-TO-HEAD: This is their second meeting. Williams won the first 5-7 6-3 7-5 earlier this year in Miami.
Next up on Court One, it's five-time champion Venus Williams against No.20 seed, Kiki Bertens.